Improve Your Game. Improve Your Life.
At Infinite Training, we work on each facet of the game of basketball – while still looking at the bigger picture. Life is more than basketball, but the game can take you far. So, we focus on 3 core values:
Mental Toughness, Accountability, and Detailed Focus.
Why do we focus on these values instead of solely paying attention to the form of your jump shot or how high your vertical is? Because life is about more than basketball. At Infinite Training, we believe you should use basketball – not the other way around.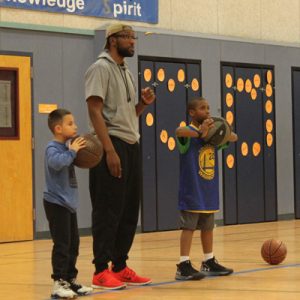 So, our three core values ensure each individual in our program can do just that. Here's how:
+ Mental Toughness
To succeed on the basketball court, you must be mentally tough. Not every night will be a great shooting night. Sometimes the refs won't be on your side. It doesn't matter. If you want to win, you must have the mental toughness to overcome obstacles and achieve your goals. Life is the same way. When things don't go your way, you still have to push past the obstacles and achieve your goals. As such, we strive to instill mental toughness in each one of our players every single workout.
+ Accountability
While the pretty jump shot, high-flying slam dunks, and smooth handles are what end up on the mixtape, we don't believe those things are most important here at Infinite Training. Why? Because without accountability and fundamentals those highlights simply aren't possible. We focus on accountability by demanding players show up on time for workouts, only allowing players with passing grades to train, and not allowing kids to ignore the fundamentals of the game of basketball.
+ Detailed Focus
Have you ever noticed how NBA point guards always "Euro-step" into a big man before lowering their shoulder to extend away and finish when attacking the rim? Nearly every great point guard who doesn't have the ability to dunk on big men uses the exact same tactics to get their shot off in the paint. At Infinite Training, we understand details matter. We know the proper footwork can allow any athlete to compete against top-tier talent. So, we focus on teaching out students the details and fundamentals of the game of basketball.
What Your Kids Will Learn at Infinite Training
~ Improved Skills: Your kids will improve their skill levels when working with Infinite Training. That's a guarantee! Our detail-oriented approach ensures your kid will improve their jump shot, shooting form, ball handling, triple-threat moves, and so much more.
~ Building Confidence: One of the most overlooked facets of the game of basketball; Confidence. Our coaches focus on building your child up. Without self-confidence, an amazing skillset means nothing. We strive to give your kid the confidence needed to use their skills in game situations.
~ Teamwork: Basketball is a team sport. Sure, we see all the one-on-one highlights on TV, but most points scored in high school and college basketball games come from team play. So, we teach your child how to be a great teammate and fit into a high school and/or college program.
~ Physical Development: A little physical activity never hurt a kid. Infinite Training will get your child in better shape. Our training focuses on skill development while still helping athletes improve their vertical jump quickness, and strength.
~ Respect Authority: Kids who don't respect authority figures like parents, coaches, and trainers will grow up to not respect their bosses and other employees. At Infinite Training, we instill a healthy respect for authority within our training, which will serve players well as they become productive adults.
The Infinite Training Difference
We understand you have options when looking for Bay Area basketball training. We also truly believe Infinite Training is the best option for your child. Why? Here's three reasons:
All Ages & Skill Levels: It doesn't matter how old your child is or what their skills are like, we have a training program suited to their specific needs. Our only goal is to help your kid succeed – no matter what success means to the individual.
Experienced Coaches & Leaders: Infinite Training is ran by former collegiate and professional athletes looking to make a difference in the lives of others. Our coaches focus on helping your child improve, while providing leadership along the way.
Near You: There's no need to travel hours on end in traffic to find Bay Area basketball training. Infinite Training is located near you. With a convenient East Bay location, we're in the heart of the Bay Area. We also offer training at a location of your choosing if need be.
---
SaveSave
SaveSave
SaveSave
SaveSave
SaveSave
SaveSave
SaveSave
SaveSaveSaveSave
SaveSave
SaveSave
SaveSave
SaveSaveSaveSave
SaveSave